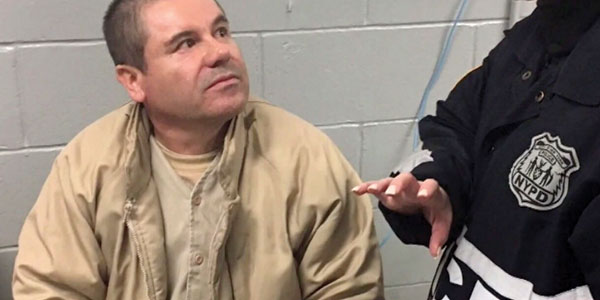 By Tere Siqueira
On Feb. 5, a federal judge in Brooklyn, N.Y., granted a government request for an anonymous, partially sequestered jury for the trial of drug lord Joaquin "El Chapo" Guzman.
According to The New York Times, U.S. District Judge Brian Cogan ordered that the jurors' names, work places and addresses be kept secret throughout the trial. In addition, he ruled that the jurors would be driven to and from their homes to Federal District Court by armed U.S. marshals. The judge supported his decisions by stating that El Chapo's "pattern of violence" could cause jurors to "reasonably fear" for their safety.
In response, A. Eduardo Balarezo, Guzman's lawyer, asked the judge to rethink his decisions.
"An anonymous jury – especially one that would be permitted to function only under armed guard – would poison the atmosphere of the case and serve to bolster the government's proof by creating the impression that Mr. Guzman is guilty and dangerous," Balarezo wrote in a court filing.
Guzman's lawyer added that there were less drastic ways to deal with the issue.
---
"El Chapo" tendrá un jurado anónimo y protegido
El 5 de febrero, un juez federal en Brooklyn, N.Y., concedió una solicitud del gobierno para un jurado anónimo y parcialmente aislado, para el juicio del narcotraficante Joaquín «El Chapo» Guzmán.
Según The New York Times, el juez de distrito de los Estados Unidos, Brian Cogan, ordenó que los nombres de los miembros del jurado, sus lugares de trabajo y las direcciones se mantuvieran en secreto durante todo el juicio. Además, dictaminó que los miembros del jurado serían transportados desde sus casas hasta el Tribunal Federal de Distrito por oficiales armados de los EE.UU. El juez apoyó sus decisiones al declarar que el «patrón de violencia» de El Chapo podría causar que los miembros del jurado «teman razonablemente» por su seguridad.
En respuesta, A. Eduardo Balarezo, abogado de Guzmán, le pidió al juez que reconsiderara sus decisiones.
"Un jurado anónimo – especialmente uno que se permitiría funcionar sólo bajo vigilancia armada – envenenaría la atmósfera del caso y servirá para reforzar las pruebas del gobierno, creando la impresión de que el señor Guzmán es culpable y peligroso", Balarezo escribió en una petición a la Corte.
El abogado de Guzmán agregó que había maneras menos drásticas de lidiar con el problema.