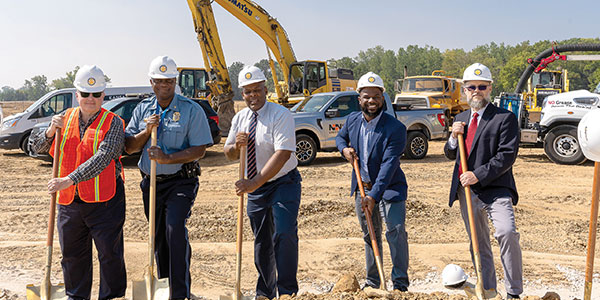 On Sept. 6, officials with the Unified Government of Wyandotte County and Kansas City, Kan. (UG) hosted an official groundbreaking ceremony for the new home of the Kansas City, Kansas Police Department (KCKPD) Crime Scene Investigation Unit and a new Sewer Maintenance Control Facility located at 49th and Armstrong Avenue.
Upon completion in the fall of 2024, the 37-acre site will serve as a step forward in the revitalization of the midtown area of the City.
"These projects are a direct example of departments working together to maximize assets and opportunities that we have within the Unified Government," said County Administrator, David Johnston. "It is extremely important that we provide high quality state-of-the-art facilities for our staff, that will in turn benefit our community members. I believe our new KCKPD CSI lab and Sewer Maintenance facility will be a great regional draw. I am confident that both projects will put Wyandotte County and KCK on the map within the KC region, proving that we take the steps necessary to meet the needs and concerns of the public."
KCKPD CSI Unit & Lab
*13,000 square feet 
*12 individualized work stations
*2 large evidence processing rooms
*Indoor parking for CSI vans & storage for supplies
*6 indoor vehicle processing bays
*Vehicle holding space for up to 90 vehicles
"This CSI is going to help us continue our pursuit to make this one of the safest communities in the metro," Karl Oakman, Chief of Police, KCKPD. "We have done outstanding work with what we have now, but we expect to do even better work once this facility is completed. It is an exciting step forward  for our department and the community."
 
Sewer Maintenance Facility
*62,000 square feet 
*Office and staff space for up to 60 employees
*Training room and meeting spaces
*Men's and women's locker facilities
*Large enclosed garage for up to 50 maintenance vehicles
*Designated repair/ service area
*Secured tool storage
 "We are extremely excited for this new sewer maintenance facility that will give the great men and women in water pollution control a state-of-the-art working and training facility," said Public Works Director, Jeff Fisher. "This new site will provide a centralized location for our staff, providing many efficiencies and in turn will increase our response times."
 
A special thanks goes to the following companies and consultants for helping take both projects from vision to fruition:
 
Wellner Architects, Inc.
Roseman & Associates PC
Continental Consulting Engineers
Newkirk Novak Construction Partners
Terracon Consultants
As both projects progress, information and photos will be made available at wycokck.org.  
---
Gobierno Unificado inicia construcción de nuevo laboratorio CSI e instalación de mantenimiento de alcantarillado
El 6 de septiembre, funcionarios del Gobierno Unificado del Condado de Wyandotte y Kansas City, Kansas organizaron una ceremonia oficial de inauguración de la nueva sede de la Unidad de Investigación de Escenas del Crimen (CSI, por sus siglas en inglés) del Departamento de Policía de Kansas City, Kansas (KCKPD) y una nueva Instalación de Control de Mantenimiento de Alcantarillado ubicada en 49th y Armstrong Avenue.
Una vez finalizado en el otoño de 2024, el sitio de 37 acres servirá como un paso adelante en la revitalización del área del centro de la ciudad.
"Estos proyectos son un ejemplo directo de departamentos que trabajan juntos para maximizar los activos y oportunidades que tenemos dentro del Gobierno Unificado", dijo el administrador del condado, David Johnston. "Es extremadamente importante que brindemos instalaciones de alta calidad y con tecnología de punta para nuestro personal, lo que a su vez beneficiará a los miembros de nuestra comunidad. Creo que nuestro nuevo laboratorio CSI del KCKPD y nuestras instalaciones de mantenimiento de alcantarillado serán un gran atractivo regional. Estoy seguro de que ambos proyectos pondrán al condado de Wyandotte y a KCK en el mapa dentro de la región de KC, demostrando que tomamos las medidas necesarias para satisfacer las necesidades y preocupaciones del público".
Unidad y laboratorio CSI de KCKPD
*13.000 pies cuadrados
*12 puestos de trabajo individualizados
*2 grandes salas de procesamiento de pruebas
*Estacionamiento interior para camionetas CSI y almacenamiento de suministros
*6 bahías interiores de procesamiento de vehículos
*Espacio de estacionamiento para hasta 90 vehículos.
"Este CSI nos ayudará a continuar nuestra búsqueda para hacer de esta una de las comunidades más seguras del área metropolitana", dijo Karl Oakman, jefe de Policía de KCKPD. "Hemos realizado un trabajo excelente con lo que tenemos ahora, pero esperamos hacerlo aún mejor una vez que se completen estas instalaciones. Es un emocionante paso adelante para nuestro departamento y la comunidad".
Instalación de mantenimiento de alcantarillado
*62,000 pies cuadrados
*Espacio de oficina y personal para hasta 60 empleados
*Sala de formación y espacios para reuniones.
*Casilleros para hombres y mujeres
*Amplio garaje cerrado con capacidad para 50 vehículos de mantenimiento.
*Área designada de reparación/servicio
*Almacenamiento seguro de herramientas
"Estamos muy entusiasmados con esta nueva instalación de mantenimiento de alcantarillado que brindará a los grandes hombres y mujeres en el control de la contaminación del agua una instalación de trabajo y capacitación de última generación", dijo el director de Obras Públicas, Jeff Fisher. "Este nuevo sitio proporcionará una ubicación centralizada para nuestro personal, lo que brindará muchas eficiencias y, a su vez, aumentará nuestros tiempos de respuesta".
Un agradecimiento especial a las siguientes empresas y consultores por ayudar a llevar ambos proyectos desde la visión hasta la realización:
Wellner arquitectos, Inc.
Roseman & Asociados PC
Ingenieros consultores continentales
Socios de construcción de Newkirk Novak
Terracón Consultores
A medida que ambos proyectos avancen, la información y las fotografías estarán disponibles en wycokck.org.